January 9th, 2017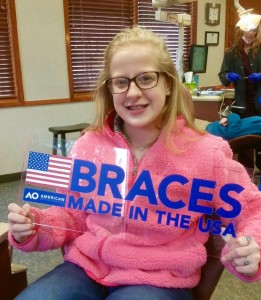 Did you know there are hundreds of companies located all over the world that make orthodontic braces? (the brackets and wires we use to move your teeth and transform your smile)
Some braces come from countries such as China or Taiwan, while others come from Germany or Spain for example.
You will be happy to know that at Sherman and Briscoe Orthodontics, our braces come from 2 of the most trusted names in the orthodontic field:
American Orthodontics
3M -- Yes, the Post-it note and Scotch tape people who, believe it or not, know a thing or two about keeping brackets glued to teeth
American Orthodontics was founded in 1968 (just like our practice) in Sheboygan, Wisconsin, where they still make all their braces today. Some of their employees have even been with them for over 30 years! (just like our practice too).
We are proud to say that our braces come from these two industry leaders. Keep an eye out for the Braces Made in the USA signs throughout our offices. So, the next time someone asks where do your braces come from, you can proudly say:
Sherman and Briscoe Orthodontics and they are Made in the U.S.A.!